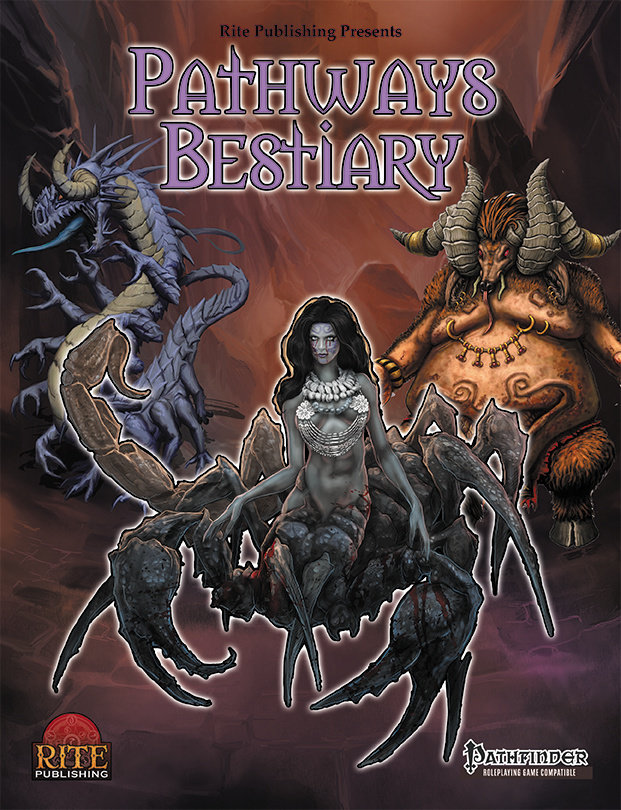 Pathways Bestiary (PFRPG)
SKU rippwbeast
Product Details
Pathways Bestiary
"Make New Monsters the Rite Way"
Pathways Bestiary collects the first 60 templates from pathways magazine, updating and revising them, and presenting them along with sample stat blocks. Within these pages you'll find dozens of templates, ranging from thematic ways to tie monsters to one of the Seven Deadly Sins and complex re-skinning's that make humanoids into massive kaiju, to simple additions that bolt a theme or concept onto a creature to give it a new role within an adventure's narrative. Each comes with some guidance on how the templated creatures can be worked into an adventure, a full stat block of a creature made new with the templates rules, and all the custom art you need to bring these creations to live.
More than just another collection of monsters that can be used at a single CR, this 228 page rule book is an important part of any GM's toolbox. Whether you need to boost an encounter's CR, twist something from a published adventure to better suit your game group, or just want to dig through the plots and ideas presented here and use the templates to build your own unique vision of a fun encounter, these templates do more than just add a few dozen new monsters to your random encounter tables. They multiply the (likely vast) number of monster you already have by the number of templates within, turning even a game otherwise using only a single bestiary, into a world with tens of thousands of potential new foes.
Authors: Steven D. Russell with Matt Banach, Johnathan McAnulty, Will "Cheapy" McCordell, Owen K.C. Stephens, and Mike Welham
*Due to the weight we had to add a $5 fee for international shipping. Please be sure to pick the right option for your location when ordering hardback. This is still significantly less then normal shipping, but is a departure from our otherwise Free Shipping on other products.
Save this product for later